About Lancaster Coworking
Surround yourself with other like-minded individuals to help expand your personal and business networks, and work more productively.
Our approach to co-working is different. We focus on the co-worker and have designed the space and programs to support the individuals. We believe going to work should be an enjoyable experience, not just something you do every day because you have no choice.
Features:
Access from 8 am to 5 pm
Use of community desks and tables
High-speed Wi-Fi internet
Access to conference room
Use of break room and toilet facilities
Kitchenette and cafe area
Private Workstations
The workstation plan is ideal for those who do not need the privacy of an individual office.
You will have a personal desk that is available 24/7. Members have full use of the site as well as conference rooms and can use our address as their own.
Features:
Exclusive ergonomically-designed workstation and desk
Utilities included
24/7 secure access
Locked drawers
Access to conference room
High-speed internet
Mailing address
Reserved parking is available (extra fee)
Additional storage can be added (extra fee)
Currently Unavailable
Conference Rooms
Available to rent by the hour, we have spaces for every need
Features:
Free high speed internet.
Smart tv and projector available upon request.
Conveniently located, within walking distance from restaurants, café and bakery in premises.
Reserved Parking spaces available.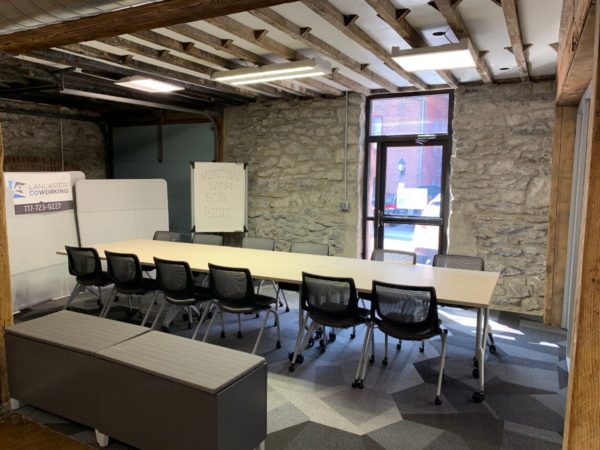 Large Meeting Space
Large space suitable for large groups up to twenty (20). Separate exterior entry and handicap access. All new Hon furniture – the tables and chairs all have casters (wheels) so can easily configured for classroom setting or conference room.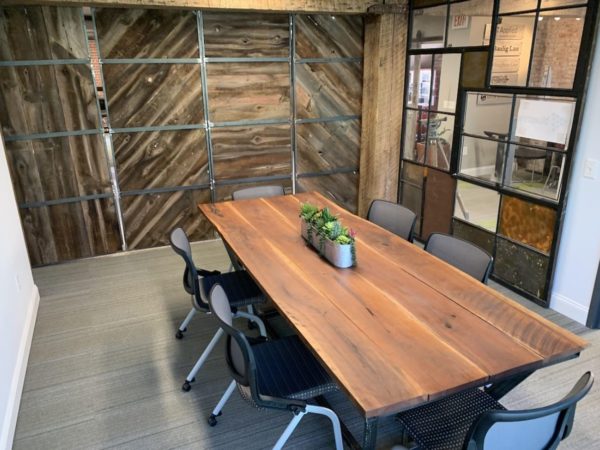 Private meeting room for 10
Located on the first level adjacent to our lobby and break area, this meeting room is uniquely designed. The sliding barn doors allow you to open up the room and expand into the break area. Room has table and chairs – seating for up to 10. Beautiful large window – tinted glass allows you to see out but by passers can't see in!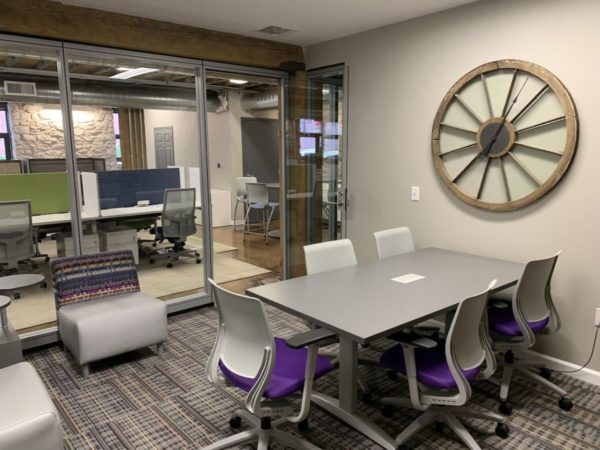 Private Meeting Room for 5
Private Meeting Room for Five occupants features new ergonomic chairs, tech-ready conference table and a movable marker board for creative and important stuff!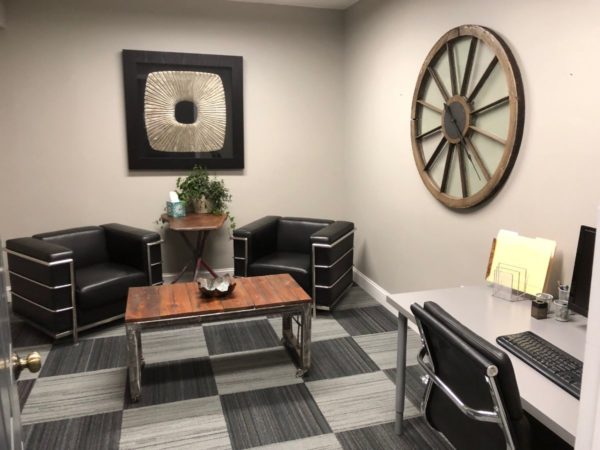 Private meeting room/ office
Whether you are on a budget or want extra privacy this interior space is for you!
Private Offices
This is an ideal option for those that need privacy whether is counseling, legal matters or talking about sensitive information on a regular basis.
Some occupations also require tools and equipment that needs to be locked away at the end of the day. Or maybe you are just a bit shy.  All offices are fully furnished with ergonomically designed furniture in various layouts to accommodate 1-4 persons.
Features:
Private office
Ergonomically-designed furniture (sizes and furniture configuration vary)
All utilities included
High-speed Internet (Wi-Fi and LAN/Ethernet)
24/7 secure access
Mailing address
Use of conference room
Reserved parking is available (extra fee)
Daily rentals available from $120
From: $700-$1,200 monthly.
Membership gives you access to a number of core spaces and amenities needed to run your business at a fraction of the cost.
These include business-grade WiFi, copier, large-format plotter, and more! Membership also gives you the option of using our address as your professional business address. Members are added to our member directory both online and in the office. Members also have access to events, networking opportunities, and also receive discounts to classes, programs, seminars, and various events.
Membership Prices
Shared Space
Use of any of the community spaces
8 am – 5 pm access
High-speed wireless internet
Kitchenette and café area
Currently Unavailable
Private Workstation
Dedicated workstation just for you! Includes locked drawers
24/7 secure access
High-speed internet
Kitchenette and café area
Currently Unavailable
Private office
24/7 secure access
Utilities included
Ergonomically-designed furniture
High-speed internet (wired and wi-fi)
From $750
Day Passes
The day pass plan is ideal for those who don't need access every day. This plan gives you the flexibility to come in whenever you want, access to all member events, networking, and use of general tables and spaces. You can choose where you want to sit and enjoy our high-speed internet. There is no mailbox, printing, or access to conference rooms. Conference rooms are available at a discounted rental rate.
From $35
Visit Us
We'd love to show you our space in person. Schedule a tour or call us for availability (717) 723-9227
General Amenities
High-Speed Internet
Ergonomically-Designed Furniture
Lounge Areas
Phone Booth
Conference Rooms
Ideal Location
Kitchenette and Café Area
Printing Center
Mailbox, Package Delivery
Private Parking (additional fee)